We are excited to have another great week under our belt and even more joyful that our JK/SK students are now with us all day, every day! Here are some Reminders:
Picture Day is Coming! – September 29th: We are pleased to announce that Lifetouch is coming on Wednesday, September 29, 2021 to take individual pictures of students and staff. Please see the Lifetouch video: https://www.youtube.com/watch?v=LevtvXI9l2Q which shows the steps that they are taking to ensure Picture Day is safe for everyone.
Pictures are to be ordered directly via Lifetouch: mylifetouch.ca using this Picture Day ID: QX551193Q0
Daily Screening: Parents/Guardians are to complete a daily COVID-19 screening on their children before sending them to school.  We no longer require proof of the screening. If there are any symptoms your child must stay home. Here is the link: https://covid-19.ontario.ca/school-screening/
Virtual Open House – The week of September 20-24th: Unfortunately, due to Public Health restrictions we will not be able to hold an in-person open house.  Instead, our teachers will be hosting a virtual open house.  Each classroom teacher will communicate to their families how they will be conducting their open house and the date/time. We know this is not the same as being in the school, but we will try our best to let you into our classrooms virtually and get a feel for a day in the life of your child/ren.
Orange Shirt Day – Thursday September 30: Saints will be celebrating Orange Shirt Day on September 30th. Orange shirt day's purpose is to recognize the impact of the Residential school system for First Nations, Metis and Inuit families and communities. It is a show of support and understanding of the history of the school system that impacts many First Nations, Metis and Inuit people today. By wearing an orange shirt, we have an opportunity to bring awareness to the history of residential schools and to stand up against other injustices that may impact our children/students. Let's turn our St. Clement hallways ORANGE!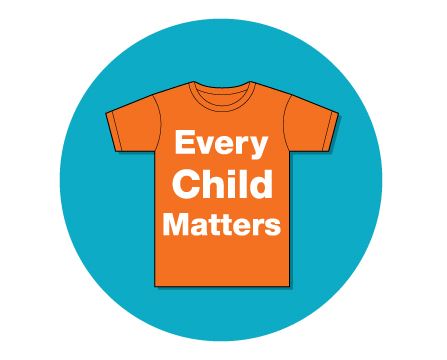 Start-up Forms on School Cash: All start-up forms have been processed through School Cash Online and they are due AS SOON AS POSSIBLE. There are several documents that require the input of information and there are a couple of read-only documents.  Please log into your school cash online account to complete these forms for EACH child. Submit each form individually, separately for each child, if they won't process all at once.
Parish Information: Parents will receive information from our parish to register for the appropriate Sacraments this coming year.  Please call the Parish office (519-699-4425) or visit St. Clement's Roman Catholic Church website should you need more information.
Resumption of Extracurricular Activities: Extra-curricular sports will be resuming with new COVID protocols for Gr. 7 and 8 students. Information regarding these new protocols will be sent home with each child who is interested in participating in a sport. Intramurals will be offered for Junior students late fall and early winter.
Student Verification Forms: Verification forms are being sent home on Monday. Please verify that all information is correct, cross out what is incorrect and write the correct information using red or blue ink. Please sign and return these forms (with the brown envelope) by Friday, September, 24, 2021.
St. Clement School Advisory Council: Our Catholic School Council plays an active role at St. Clement C.E.S. by determining school priorities and budgeting. We meet approximately 5 times a year and it is important to know that we need committed members able to attend meetings. At this time, meetings will be held virtually through an online platform. Our first meeting will be Tuesday, September 21st at 6:30 p.m.  You will receive a confirmation email from the school regarding your interest in being on our council once we receive all the applications. Thank you for your interest in being a part of our Catholic school community!
Here is the virtual link to our first meeting: Microsoft Teams meeting
Join on your computer or mobile app
Click here to join the meeting
Or call in (audio only)
+1 226-241-2413,,427642729#   Canada, Kitchener-Waterloo
Phone Conference ID: 427 642 729#
Find a local number | Reset PIN
WCDSB Updates: Please visit our School Board Website for updates and recent information.  Here is the link: https://www.wcdsb.ca/
Families are reminded to check the WCDSB website regularly for updates on our Operational Guidelines.  Please know families can review the Ventilation Report for schools and/or the Board should you wish to have more information: https://www.wcdsb.ca/living-learning-looking-forward/
The WCDSB Special Education Advisory Committee (SEAC) will be hosting guest speaker Michael Jacques at the upcoming October 6th SEAC meeting.  Michael is a talented, determined and passionate young man living with autism and an intellectual disability.   He lives and works in the Niagara Region where he is a very active member in his community and beyond. Michael has travelled across Canada to share his story to motivate and inspire schools, organizations and our world to critically think about inclusion, diversity and compassion.  He has presented on several occasions at various WCDSB events, sending a passionate and powerful message.  We know you will not be disappointed!
The October 6th SEAC meeting will be divided in two portions.  The first portion, 6:00 pm. to 7:00 p.m. for Michael's presentation, and the second portion being the official SEAC Meeting.  For those interested in attending Michael's presentation, please register at the link below.  Space is limited so please register early. Registration deadline is September 30th 2021.
Please register here: https://forms.office.com/r/AhCMHiggib
As we near the end of another week of school, I just wanted to take a moment to let you all know how PROUD we are of your children! We are so glad to be back at school experiencing recesses without masks, equipment outside again, and of course, lunch with friends!
There have been some changes this week, but your child(ren) did it with confidence and resilience and we appreciate how much you supported them at home with transitions.
There have also been so many sacrifices in the past several months, and your child(ren) as well as yourselves have endured very effectively! You have done a wonderful job, and although we are not out of the woods yet, it is important to recognize the many successes we have had! You have struggled but you have persevered!
Your child(ren) are absolutely wonderful and amazing! They have continued to dealing with masks throughout the day when they have to and they do it without complaints! They have jumped back into the routine of the day and they have shown fantastic resilience! They continue to demonstrate their learning and show all of us that they are so very capable.
These past several months have demonstrated to me and our entire staff that because of our community, because of the students, St. Clement School is THE BEST PLACE TO BE!
The entire staff wishes you a wonderful weekend!
Be safe and stay healthy!